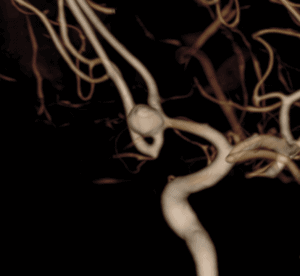 Recently, a patient with an enlarging cerebral aneurysm was treated by Dr. Frank Hellinger, Jr, MD, PhD of the NeuroVascular Group of Orlando Neurosurgery at Advent Health, Orlando using a newly approved technology called the WEB. This new technology allows catheter-based treatment of aneurysms which previously required open, neurosurgical clipping. With this therapy, patients are discharged home the day following their procedure with no limitations on their activities. This is a new break-through technology and will likely revolutionize the endovascular treatment of cerebral aneurysms.
The WEB device is an "intra-saccular flow-diverter." Flow diversion is a technique that was developed in the last ten years. It was a major step forward in the treatment of cerebral aneurysms and has allowed treatment of aneurysms which were previously considered untreatable. Previous flow-diverters were a special type of stent. They are placed in the artery from which the aneurysm arises. They are not suitable for aneurysms which arise where an artery divides as is commonly the case. The WEB device solves this limitation of flow-diverting stents as it is placed in the aneurysm not the artery. This is a major step forward in the treatment of patients with cerebral aneurysms.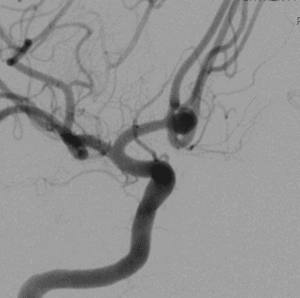 Cerebral aneurysms remain a frequently devastating condition afflicting patients of all ages including young children and the elderly. Aneurysm rupture usually results in death or long term disability. There are a variety of catheter based and open surgical methods for treating cerebral aneurysms. Catheter based treatments include coiling, stent-coiling, balloon-remodeling, flow-diversion and endovascular trapping. Open surgical methods include clipping and bypass with trapping. The NeuroVascular Group of Orlando Neurosurgery has many years of experience with all of these.
Many other diseases come under the purview of the NeuroVascular Group. These include such things as blocked vessels in the head, vascular malformations of the brain, skull and spine, carotid stenosis, vertebral stenosis, intracranial stenosis and venous stenosis. These conditions cause such things as stroke, seizure, bleeding in the brain, pulsatile tinnitus and progressive lower extremety weakness. Even patients with pseudo-tumor cerebri are occasionally candidates for catheter-based treatment.
WEB® ANEURYSM EMBOLIZATION ANIMATION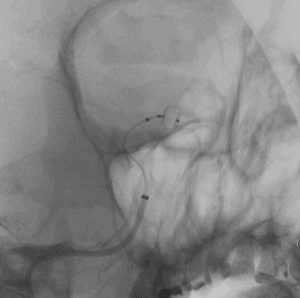 The NeuroVascular Group of Orlando Neurosurgery comprises Michael Bellew, MD, Ravi Gandhi, MD, Ankur Garg, MD and Frank Hellinger, Jr, MD, PhD. This is the largest, most stable group of NeuroVascular specialists in the Southeastern United States. They have provided consistent, comprehensive care for patients with NeuroVascular diseases for over twenty years and have developed a mature and stable supportive group of technolgists, nurses and critical care specialists. Their services are available at Advent Health, Orlando, Orlando Health and Osceola Regional Medical Center. They anticipate providing services at Advent Health, Celebration in the near future. Any of the physicians can be contacted via phone at 407-975-0200 or via fax at 407-975-0209.
Sign Up for Our Newsletter
Get the latest news and updates from Orlando Neurosurgery delivered straight to your inbox.