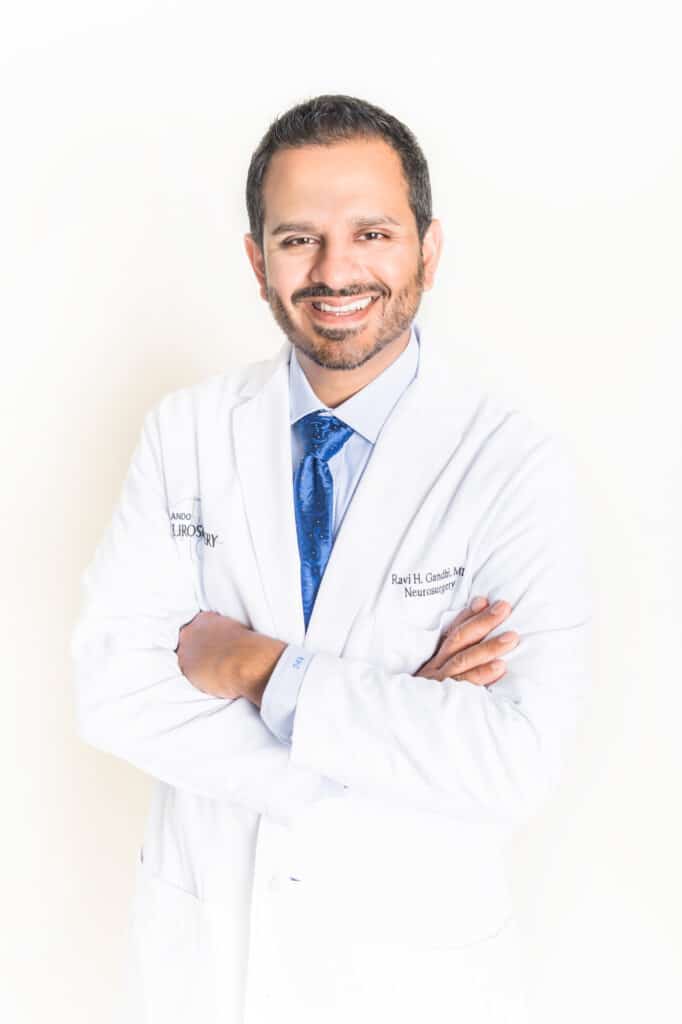 See What Patients Are Saying
I went in with about 10 years of tingling in my hands & about 2 years of pretty bad arm & shoulder pain. I had a lot of issues, no one was sure if one surgery (ACDF) would fix them all...but it did. I had no problems with or after surgery & feel fine. Thanks, Dr. Gandhi
Dr Gandhi and his team were great for my wife (surgery brain tumor). Excellent team and great doctor!
FIrst off i will say that i do not blow sunshine and arbitrarily give Doctors good reviews. I give them bad reviews if they warrant them. To that end i have given several Neurologists and ENT's in Orlando bad reviews for various reasons; this was not the case with Dr. Ghandi. He is very direct about correcting misinformation and also tells you truths that you might not want to hear, which i find completely refreshing (some Dr.'s keep these things to themselves until you need to know). Dr. Ghandi was one of two surgeons that performed a very rare vestibular brain surgery on me (SCDS plug and bridge with bone graft via Mid Fossa Craniotomy). When the day came to have my surgery and they were explaining some of the obvious risks, Dr. Ghandi noticed i has a bit anxious and not my normal joking self. He went out of his way to make jokes and lighten the mood, as well as reassure me of the success rates. I instantly felt better. The cranial bone graft, titanium plate, and incision site were all done flawlessly. His staff was great at doing the follow up's (although very busy). My condition is bilateral so i may need the other side done, and if that happens i will personally request Dr. Ghandi and wait for his availability. I have seen 6 different neurologists / neuro-surgeons before him and he out classes them all. I will always return to him.
Dr.Gandhi has changed my life , when i went to he's office i can barely walk and after the surgery im a new man. I will recommend him 200%. The Best Neurosurgeon, thank you DR. Gandhi.
When I first saw Dr. Gandhi I was in the hospital in Orlando for emergency neck surgery but due to heart problems he didn't feel comfortable doing surgery. Probably saved my life as I spent two months in rehab. As time passed I got stronger but my back was horrible. Dr. Gandhi operated in March doing a back fusion of three vertebrate. He is an excellent surgeon and has great communication skills. I look forward to my visits with him due to his wonderful sense of humor and that he truly listens. Oh by the way I am 95 percent better.
Dr. Gandhi is a phenomenal doctor. 10 out of 10 would recommend.
LILIAN GREENBERG
2021-03-27
Dr Gandhi performed surgery on my spine fusion he extended the fusion inserted a cage cleaned up scar tissue the works. His professionalism is excellent great bed side manner very compassionate. His experience is A+ he's the best in the Orlando area. His staff is superior and help you every step of the way! All of these has led to a speedy recovery. Thank you Dr Gandhi!
Dr. Ravi H. Gandhi, M.D.
Board-Certified in Neurosurgery
Specializing in minimally traditional and minimally invasive methods of treating complex brain and skull base diseases.
Dr. Gandhi is a board-certified neurosurgeon who is fellowship trained in Cerebrovascular, Endovascular, and Skull Base Neurosurgery. His current areas of interest include traditional and minimally invasive methods of treating complex brain and skull base diseases such as brain tumors, trigeminal neuralgia, and acoustic neuromas (vestibular schwannomas). Dr. Gandhi also treats cerebrovascular disorders of the brain and spine including aneurysms, arteriovenous malformations(avm), and carotid and verterbral artery stenosis predominantly minimally invasively with no incision. Dr. Gandhi also applies advanced technology and minimally invasive techniques to treat spinal disease.
Dr. Gandhi completed his undergraduate training in Neuroscience at Johns Hopkins University and medical school at St. George's University. Followed by his residency training at Albany Medical Center and then by an Endovascular Neurosurgery fellowship where he learned minimally invasive techniques for treating vascular disease of the brain and spine. He then moved to Goodman Campbell Brain and Spine Institute where he completed another fellowship in Cerebrovascular and Skull Base Neurosurgery.
Dr. Gandhi practices at Orlando Neurosurgery, with seven offices in Central Florida. Dr. Gandhi is a medical director and part of an elite neurosurgical team at the AdventHealth Neuroscience Institute. This team has privileges and performs procedures at Orlando Regional Medical Center and Osceola Regional Center.
Tailoring an optimized treatment for each patient is central to Dr. Gandhi's approach. "There are never two patients who are the same whether it is a brain tumor, trigeminal neuralgia, or a spinal problem. Our goal is to find the least invasive way to treat your problem, often avoiding surgery all together."
Dr Gandhi offers insightful and easy to understand resources for those impacted by Cerebrovascular, Endovascular, Skull Base, and Spinal disorders, and diseases on his blog.
Sign Up for Our Newsletter
Get the latest news and updates from Orlando Neurosurgery delivered straight to your inbox.